We know Northeast Montana as the land of sprawling plains, big skies and quaint communities. But long ago, millions of years before the Missouri River had even begun to form, this land was a lush wetland for prehistoric giants to roam. While that is hard for many of us to picture now, the evidence is all around us—Missouri River Country is home to world class fossil discoveries, and more T-rex skeletons have been found in Montana than any other state. If dinosaur discoveries and relics of Northeast Montana's ancient landscape have piqued your interest, look no further. Here are some dinosaur sightings you won't want to miss in Missouri River Country's many museums scattered along the famous
Dinosaur Trail.
Fort Peck Interpretive Center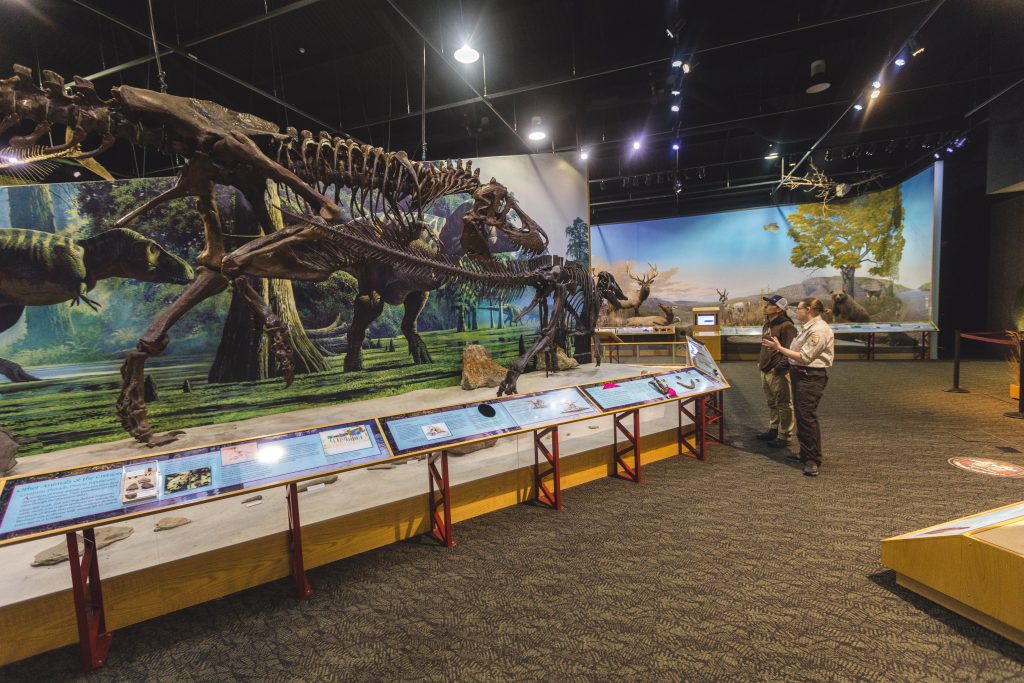 Visitors entering the main lobby of the
Fort Peck Interpretive Center
are greeted by a life size, fleshed-out model of Peck's Rex, the Tyrannosaurus Rex discovered 20 miles southeast of Fort Peck in 1997. A skeleton cast of Peck's Rex is also on display in the exhibit hall along with several other regional paleontology displays including a Cretaceous Sea display.
Garfield County Museum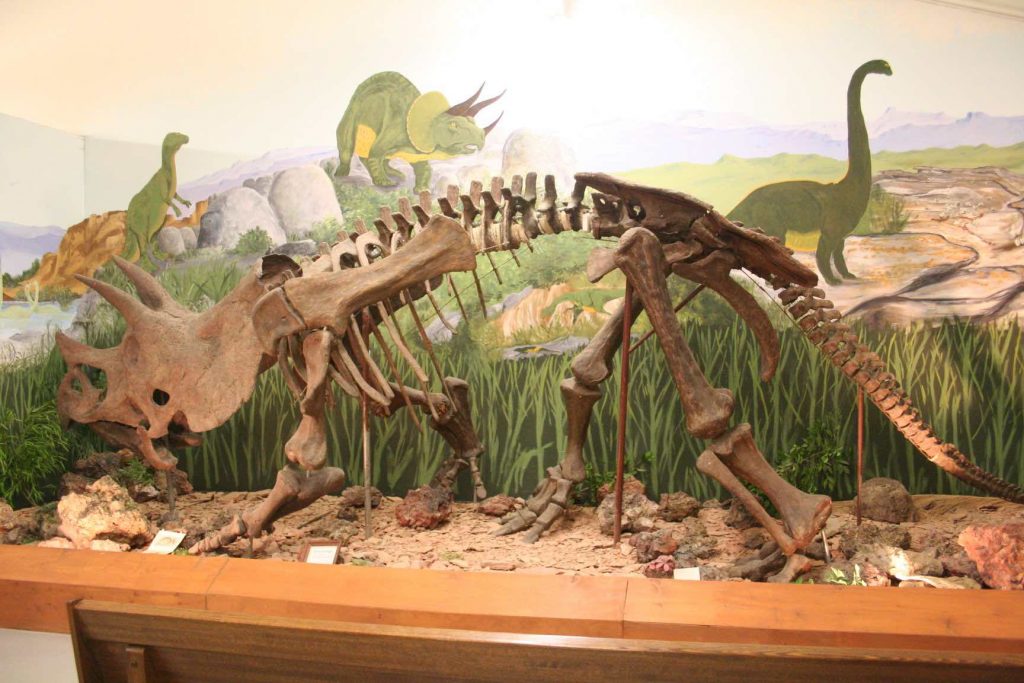 Photo by Garfield County Museum
Head to the community of Jordan to visit the
Garfield County Museum
, where you'll spot a full-size
Triceratops
cast among other impressive prehistoric findings. The original Triceratops fossil was discovered just north of Jordan, and that isn't the only major finding from the region. In 1902 the world's first identified
Tyrannosaurus rex
was discovered near Jordan, and the full
T. rex
skull is still displayed at the museum today.
Great Plains Dinosaur Museum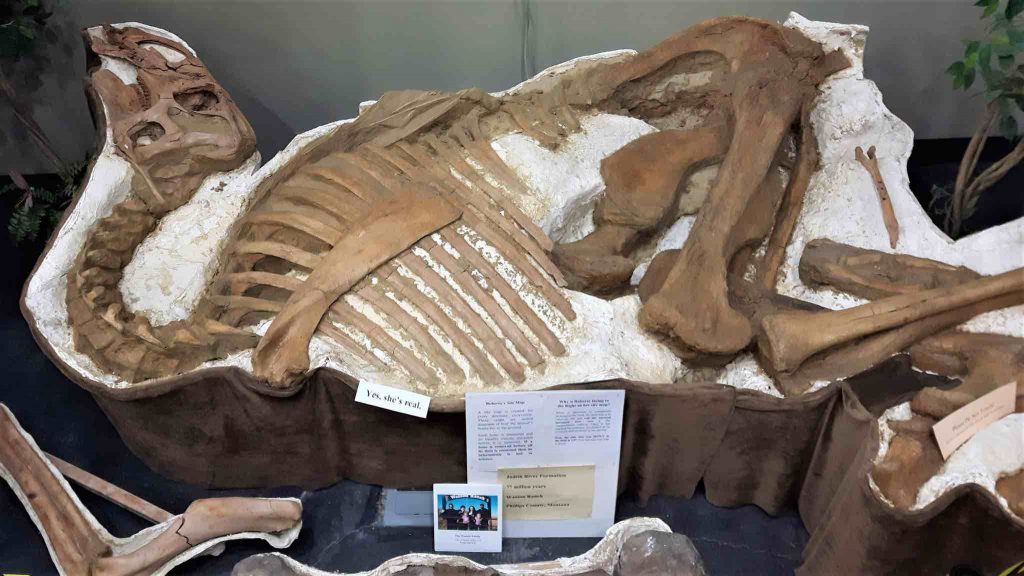 Photo courtesy of Great Plains Dinosaur Museum
You can expect to find a wide variety of rare fossils at the
Great Plains Dinosaur Museum and Field Station
—after all, it's in the name. Dino sightings at this stop include prehistoric fish, invertebrates, plants, and a variety of dinosaur species such as
Triceratops
,
Stegosaurus
,
Sauropod
,
Raptor
, and
Hadrosaurs
. If you want to get even closer to the action, check out the museum's preparation lab or look into a summer dinosaur dig.
Phillips County Museum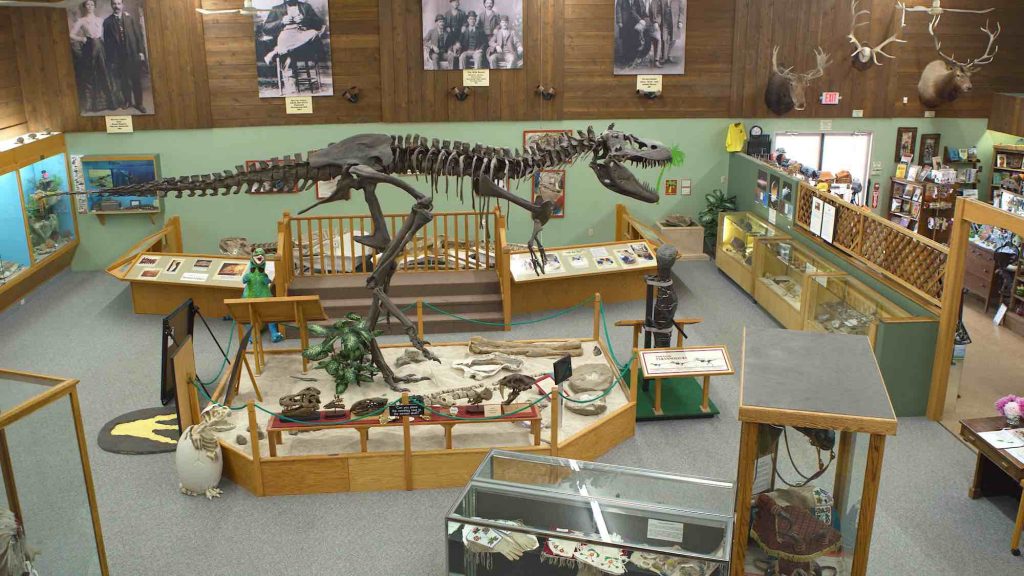 Photo courtesy of the Montana Dinosaur Trail.
Not far from the Great Plains Dinosaur Museum, you'll find the
Phillips County Museum
chocked full of discoveries from the nearby Judith River Formation. Around seventy-seven million years ago this formation was the bank of a shallow, warm inland sea that created the perfect habitat for prehistoric giants. Lucky for us, this also means that the region is scattered with especially impressive fossils and findings. The most notable of those fossils is "Elvis," the 33-foot-long
Brachylophosaurus
that is known as one of the best articulated skeletons ever found.