Winter Weekend Getaway
2 Days
in Missouri River Country
Escape to a place of frozen lakes and snow-covered prairies for a wintery weekend getaway. Missouri River Country boasts more room to roam year-round, but somehow it feels even more vast and expansive when there's a layer of snow.
Come prepared! This two-day getaway takes you far away from the hustle and bustle of big crowds, but that can mean less services and amenities as well. Ensure smooth sailing by bringing your own gear or renting in a larger city before arriving in Fort Peck.
Day 1
On the Ice
Get ready for a day on the ice, whether that means ice fishing or ice skating—Hell Creek State Park is a popular spot for both.
Fuel up in Fort Peck. The Gateway Club offers breakfast, lunch and dinner, so you can fill up on food before hitting the ice. Across the street you'll find Lake Ridge Bait and Tackle, where you can grab gas and any last minute supplies.
Head to Hell Creek State Park. Be sure to check weather conditions before you go, and always be aware of changing ice conditions. You can contact the local marina if you are unsure about current conditions.
Spend the evening in Jordan after your day of ice skating and/or ice fishing on the lake. You can find a warm room at Fellman's Motel or the Garfield Hotel & Motel, and a hot meal from nearby restaurants such as the Hell Creek Bar & Grill.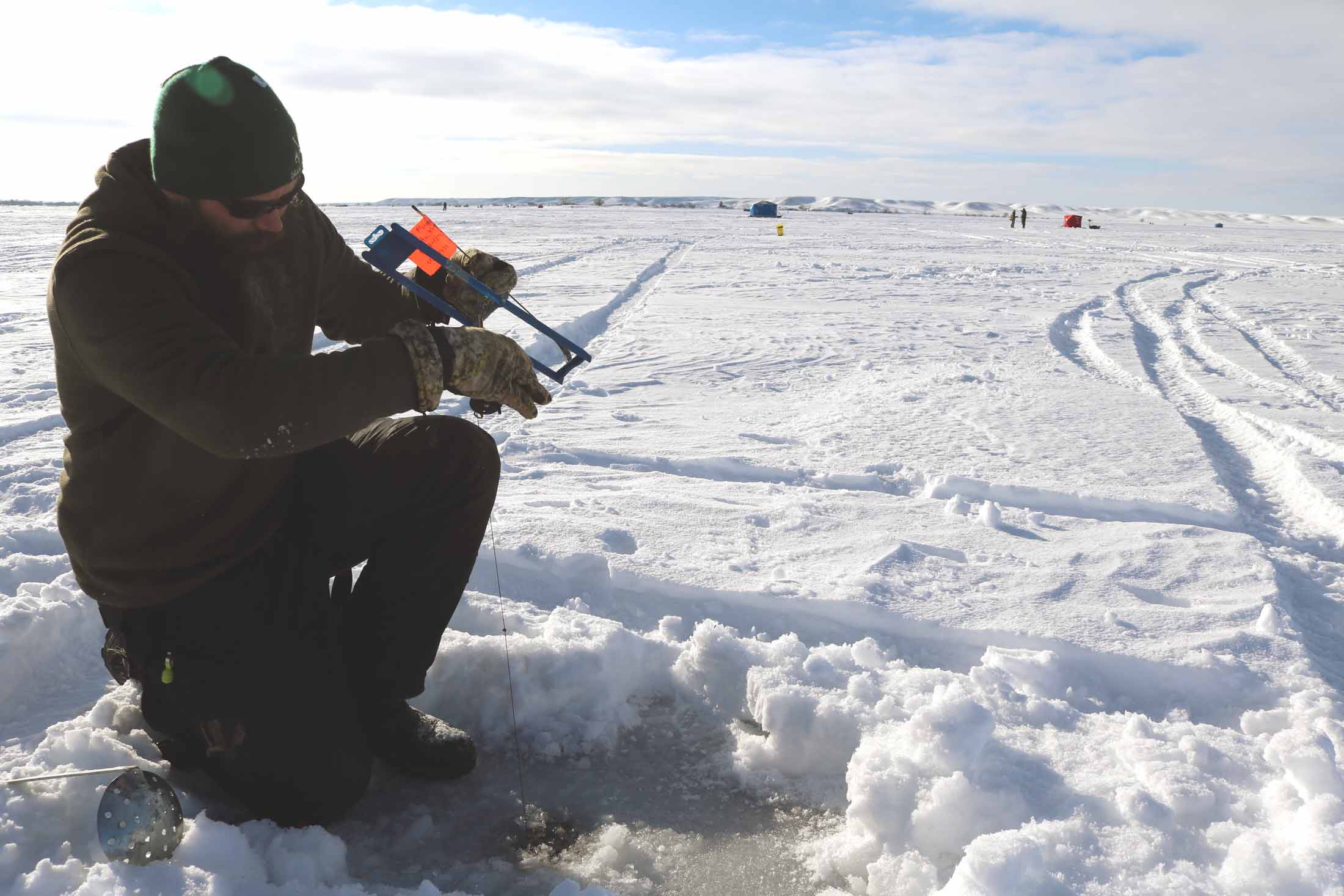 Day 2
Fort Peck Skiing & Hot Springs
Rise and shine! There's plenty to do on the second and final day of your winter weekend getaway, so be sure to set your alarms bright and early.
Grab breakfast and coffee to-go, then hit the road. Enjoy the 1.5 hour scenic drive to Fort Peck.
Break out the cross country skis. The Downstream Campground, Kiwanis Park and Beaver Creek Nature Trail all offer groomed trails with set tracks for cross country skiing in Fort Peck.
Load up the skis and head to the hot springs. Sleeping Buffalo Hot Springs is around 1 hour 15 minutes away, and well-worth the drive after a day of winter recreation. Don't forget to stop in Glasgow or Saco for lunch on the way! (If it's well past lunch time, make it dinner instead and opt for a night in Glasgow and save the hot springs for the next morning)
Soak your tired muscles in the hot mineral waters, and treat yourself to a night's stay in one of their deluxe cabins to top off the weekend.