Search for Stars
5 Days
in Missouri River Country
Make your next vacation a getaway to the brightest stars and furthest galaxies visible in the lower 48. Thanks to Missouri River Country's small towns and wide open spaces, we enjoy little to no light pollution and more room to stargaze. There's no better way to experience the stars than by sleeping beneath them, so pack your camping gear and some warm layers for late-night stargazing.
Day 1
The American Prairie Reserve
The American Prairie Reserve is your first star-studded destination. This privately owned, yet publicly available, land offers exceptional stargazing opportunities and multiple campgrounds to choose from.
Start the day off in Malta and stock up on whatever food and supplies you need for dinner and tomorrow's breakfast at camp.
Grab lunch on your way out of town. Spots like Lettuce Eat and Crossroads Coffee & Bistro are great if you could use a caffeinated pick-me-up as well. If you're eager to get on the road, opt for a speed burger and fries at Joe's In and Out right before leaving Malta.
Set up camp
Buffalo Creek Campground offers RV and tent spots, vault toilets, and non-potable water. The road is partially unpaved.
Antelope Creek Campground offers a range of accommodations, from walk-in tent sites and rustic cabins to RV sites with electricity. The campground has potable water, showers, and a dump station for visitor use.
Skip the tent and reserve a Myers Family Hut. Perfect for those with larger groups and 4WD vehicles, these huts offer an affordable and memorable experience out on the prairie.
Make dinner at camp, then sit back and enjoy the show.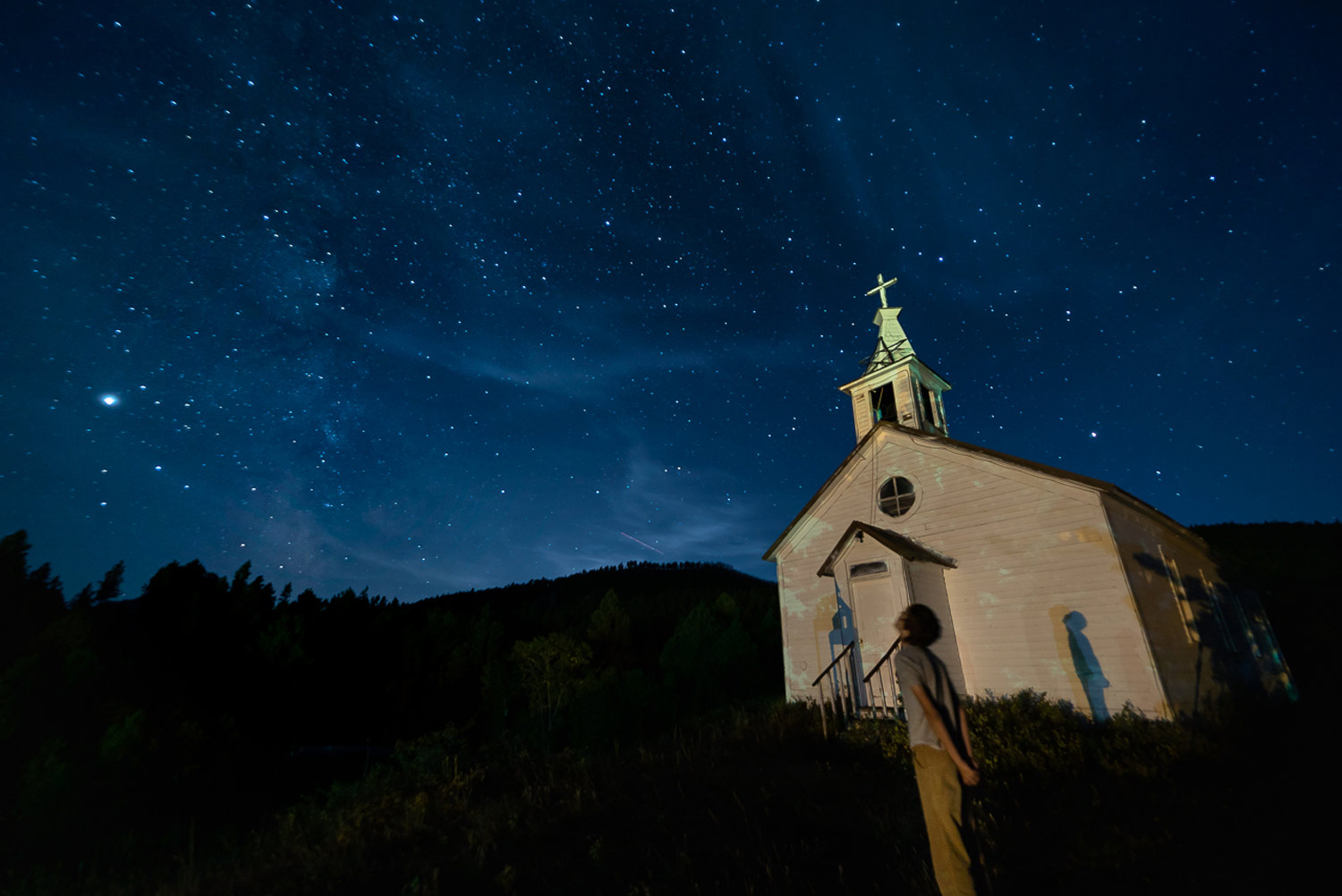 Day 2
Little Rocky Mountains
After a leisure morning taking in the vast open prairie around you, pack up camp and head up into the Little Rocky Mountains. Get ready for an impressive view of the cosmos come sun down, because light pollution is nearly non-existent in this 25,000 acre mountain range.
Stock up on food along the way. You won't find any formal dine-in restaurants in this area, but there are a few small grocery stores where you can stock up on campground groceries in the nearby small towns of Zortman, Dodson and Hays.
Still early in the day? Make your way to Zortman. This quaint community of around 70 people was once a booming mining town of nearly 2,000. Now, folks can visit the area to go panning for gold or hike to the iconic white church on the hillside.
Set up camp
Day 3
Hell Creek State Park
Next stop, Hell Creek State Park, situated on Fort Peck Lake and complete with its own campground. This area has the darkest night sky rating possible, so a cloudless night under the stars will be an experience you won't soon forget.
Start your day with a scenic drive as you head out of the Little Rocky Mountains and make your way towards Fort Peck Lake.
See some dinos along the way. You'll pass through Jordan on the way to your final destination, so you may as well stop in the Garfield County Museum!
Don't forget to grab a bite before leaving Jordan. You can stock up on more campground grub at one of the grocery stores in town, and treat yourself to a sit-down meal at one of Jordan's local restaurants such as the Hell Creek Bar & Grill or the Summit Corral.
Set up camp. It's a quick drive from Jordan to your final destination at Hell Creek State Park , and a comfortable campground with amenities such as potable water, a playground, trails, fish cleaning station, RV dump station and a group facility you can reserve for special events. If you'd rather take a break from sleeping under the stars, reserve a room at Fellman's Motel or the Garfield Hotel & Motel.
Day 4
The Pines Recreation Area and Fort Peck
If you're in love with the lakeside views, don't worry—your next destination is just under 3 hours away, yet still on the shores of Fort Peck Lake! This spot is aptly named for the pine trees in the area, so many stargazers opt to break out of the trees and go on a late night hike to reach prime viewing points along the high hills nearby.
Drive to the town of Fort Peck. But just before you reach the town itself, be sure to snap a picture at the Fort Peck Spillway, where water rushes in from the Missouri River.
Spend the day in town. Enjoy the small city amenities of Fort Peck before retreating to your next outdoor destination for the night. Check out the Fort Peck Theatre or Fort Peck Interpretive Center and Museum, and treat yourself to another meal from local restaurants such as the Gateway Club or the historic Fort Peck Hotel.
Set up camp, or not. You have a couple options here—leave town and go set up camp at one of the primitive campsites at the Pines Camping Area, or leave the camping gear in the car and treat yourself to a stay at the Fort Peck Hotel . Just be sure to drive outside of town and away from any light pollution if you're still in the mood to go stargazing once the sun goes down.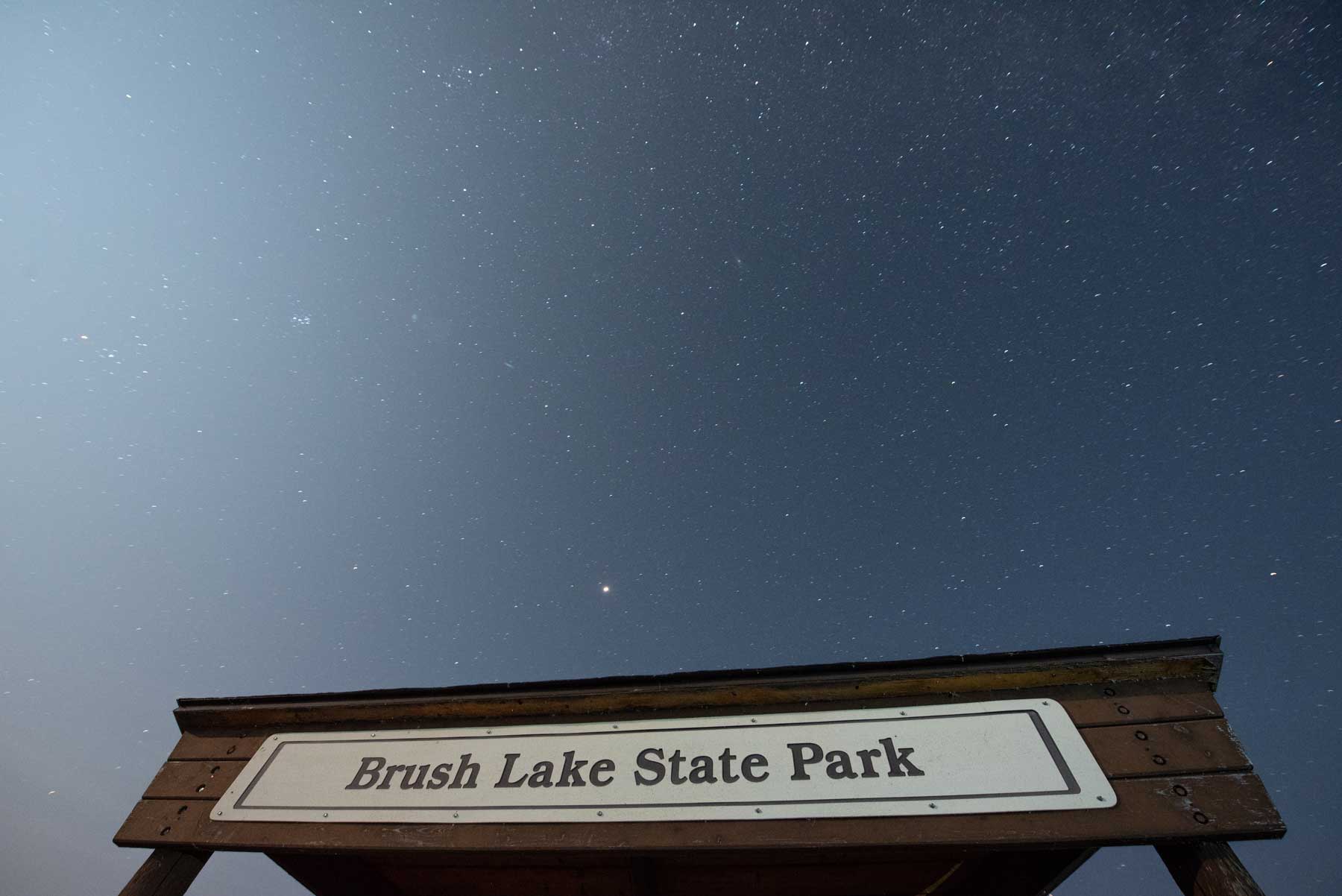 Day 5
Brush Lake State Park
Your final destination awaits, just over 3 hours away on the eastern border of Montana. Brush Lake State Park offers the perfect lakeside location to end your star-studded adventure.
Grab coffee and breakfast on your way out. Whether you stayed in town or camped along the water, you'll have the opportunity to grab some food and coffee to fuel your last day chasing the stars.
Enjoy the ride as you drive along the Missouri River and pass through communities such as Wolf Point, Poplar and Culbertson, all three of which offer museums, food and small shops when you need a break from driving.
Stock up before the last stretch. The small towns of Culbertson and Plentywood are your best bet to grab food and supplies one last time before reaching Brush Lake.
Set up camp for your final night of stargazing. The Brush Lake campground offers 12 campsites to choose from, and the lake is ideal for swimming when the weather is warm. Don't forget to soak in the scenery and solitude on your final night of stargazing in Missouri River Country.